So you've launched your new website, it looks great and everyone loves it. The only problem? You have no visitors! No visitors means no new clients or conversions. The truth is, launching a new website is the easy part. The real work begins afterwards, looking for ways to drive traffic to your page.
Pay per click ads, display network advertising, link building, social media campaigns, email marketing and referral link schemes can all help, but the key to long-term sustainable success is getting your website featured on the first page of Google.
My new ebook is a step by step Guide to Writing Search Engine Optimised content for your WordPress Website, written to help you do just that.
Beautiful images, great user experience, and page speed are all important features of a good website too, but it is the written content that will:
1. Determine if your website shows up in Google
2. Convert visitors into paying customers
In the book, I mainly focus on the Search Engine Optimisation aspect, though there's actually quite a lot of crossover between the two!
The book is divided into 4 sections:
How to Define your Mission Statement / Unique Value Proposition
It's essential that you define the Unique Value Proposition of your product or service.

What is it that makes your product or service special?
Why should people choose your product or service over those of the competition?

In this chapter, we'll look at some great strategies for identifying the strengths and specialities of your brand that will help you stand out from the crowd, plus how to identify and target your niche audience online.

The Whys and Hows of Keyword Research
You know your product or service inside and out. You know exactly what it does, how it works, what it's called… Your prospective customers might not!

Whatever your niche, you need to do "Keyword Research" to find out:

What terms do people actually use to search for products or services like yours?

What kind of demand there is for your product or service?

Through keyword research, you will be able to build up a long list of possible search terms that potential customers will use to find your website.

How to Scope Out the Competition to get an Advantage
Your business doesn't exist in a vacuum. You need to find out:

Are there other websites offering the same products and services?

Are your USPs really USPs or are competitors offering the same (or better) product or service?

This chapter will arm you with the (free) tools and techniques you need to get the low down on your competition. You will learn to analyse the strengths and weaknesses of the other businesses in your category in order to refine your keyword list to those with the highest chance of success.

How to Optimise Your Content for SEO and Mobile
Once you've decided on your chosen keyword phrases, you need to optimise your text for Google.

This IS NOT about trying to hack or fool Google, the truth is that you can't trick your way into the top of the search results.

Good SEO is really about structuring your written content in a clear and easy to understand manner. Doing so helps both humans and search bots understand what your content is trying to say.

This chapter is really written with WordPress users in mind. WordPress makes SEO very easy, with no need for HTML or programming. The general rules apply to any website, however, whatever platform you're using.
On-Page SEO for WordPress: How to Write Content that Ranks in Google is now available on Amazon for less than the price of a cup of (good) coffee.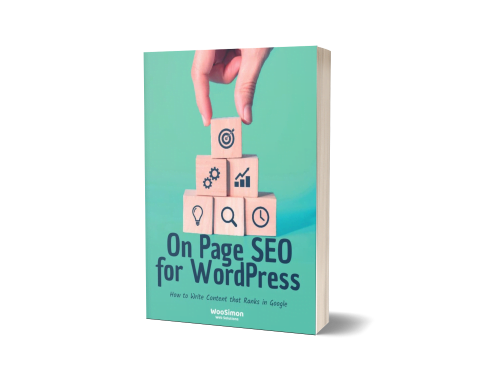 The article New eBook available: On-Page SEO for WordPress first appeared on woosimon.com