How to add products to your woocommerce store
8 Simple steps to add your products to your woocommerce store
Now you have your shiny new website, you'll be wanting to add products to your woocommerce store so you can start selling and reeling in the cash hand over fist!
In this article, we're just going to look at "Simple Products" and "Variable Products".
The good news, is that adding products to your woocommerce store is easy peasy. Just follow the steps below.
Step 1: Click "Add Product"
You can find the add product option in two places (see image below):
On the top menu where it says "+New"
Under the "Products" menu on the left hand side
Step 2: Add product name and details
Add a title for your product, and a clear, concise yet captivating description (highlighted above).
Make sure it's accurate, and try to pre-empt the common questions that customers are likely to have about the product.
Step 3: Select Categories
Add your product to any and all relevant categories by ticking the boxes in the box to the right. If it's for a new category you can click the "+ Add New Category" to create it as you go along.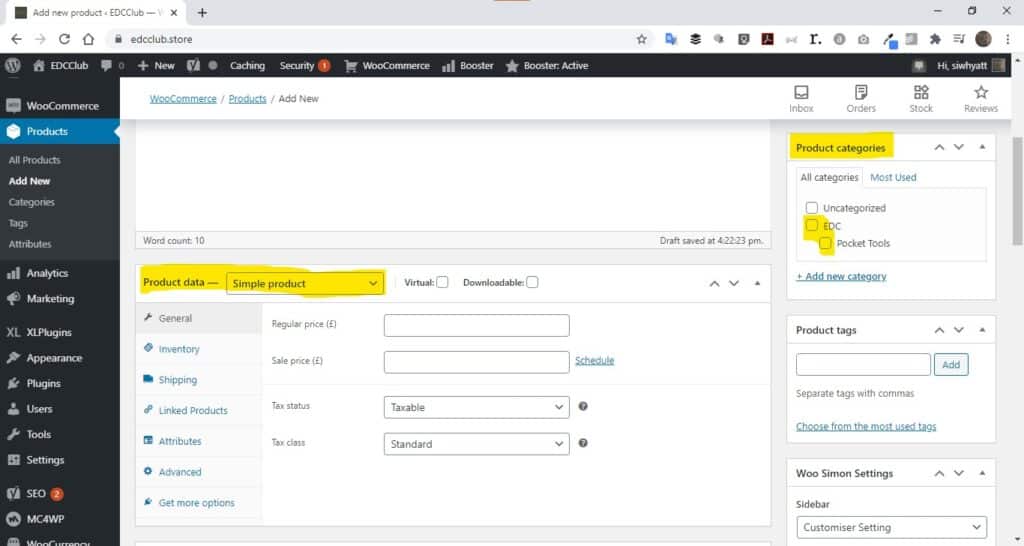 Step 4: Select Product Type
In this how to we're just concerned with "Simple Product" or "Variable Product".
If the product you are adding is "Simple" i.e. has no variations, leave the dropdown at is. If you product has variations, i.e. it's available in different colours, sizes, shapes, flavours or whatever it may be, select "Variable Product". Told you it was simple!
Step 5: Configure Product Data
General:
Here you need to set the product's price.
You can also set a sale price, either indefinitely, or during pre-defined dates if you click the "Schedule" link.
Don't forget to assign the relevant Tax status and class if applicable.
Inventory:
Manage stock? If you tick this box, you will be given the option to add a figure for stock.
Allow back orders? Here you can decide whether to let your customers order even though you are out of stock. This can be a good option if you are 100% sure you'll have stock again soon, and make sure your customer is OK with the wait. Any doubts it's better to take their email and notify them when you have stock again.
Low Stock Threshold: Decide when you want to get a "Low Stock" email notification.
Shipping Class:
Depending upon your products and courier service it may be necessary to enter weight and/or dimensions.
If you have different shipping classes you can select the relevant one here. (Don't worry now if you have no idea what shipping classes are!).
Linked Products:
Upsells – Here you can link other products that you might want to encourage people to upgrade to. I.e. instead of plain old Unicorn Soup, how about some Organic Gluten-Free Unicorn Soup with Crazy Croutons!
Cross-Sells – Here you can link products that the shopper might be interested in purchasing along with this product. Perhaps a Magic Spoon to eat their Unicorn Soup for example.
Attributes:
This is (mainly) for setting up variable products – see below.
Advanced:
Purchase note – This will show up on the customers confirmation emails and packing note (if you include one).
Menu Order – Ignore this as there are easier ways to do it!
Enable Reviews – Leave ticked if you want to let customers leave product reviews. Uncheck if you don't.
Step 6: Add Product Tags (Optional)
Depending on your store set up and products you may wish to add tags.
Perhaps for example you sell food, categorised by food types such as Meat, Vegetables, Cereals, etc, but you may also like to tag products by meals – Breakfast, Lunch, Dinner, etc. It just gives customers another way to search and browse your products.
(If and How product tags will show up and work will depend upon how your site is configured so speak with me if you're interested in using them).
Step 7: Add Product Images
Good images are crucial if you want to sell your products online.
They must be flattering to the product, but not deceptive – this isn't Tinder, people can claim a refund!
A combination of full product shots, up-close photos of key details, and "lifestyle" shots of the product in use by beautiful sexy people usually does the job.
The product image will be the image that shows up in the shop archive, the large image when you click into the product, and the image that shows up when the product is shared to social media.
The product gallery will display as smaller thumbnails until they are clicked on or hovered over.
Step 8: Get ready to hit publish
You should always proofread any page, post or product at least a couple of times before you publish it.
It's even more important before you add products to your woocommerce store as a mistake could cost you dearly – Don't want to be selling your Unicorn Soup at £1 when it should have been £100!
Hit save draft and have a cup of tea, then come back and do a preview. If you can, get a second set of eyes to look it over.
Only when you're 100% sure everything is present and correct should you hit the "Publish" button and open the champagne.
Configuring Variable Products that you add to your woocommerce store
Variable products aren't so different to simple products, just follow the steps below when you add products to your woocommerce store.
Select "Variable Product" from the dropdown, then go to "Attributes", select a relevant choice from the "Product Attribute dropdown" (In the example "Colour"), then click "Add".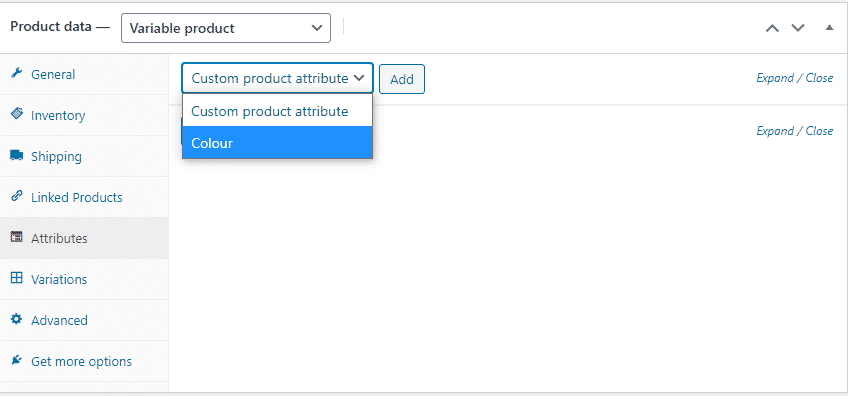 Add the relevant values. In this case "Blue, Green, Yellow". Just start typing and you'll see the options appear. Clicking "select all" will automatically add all the variations. It's often quickest to add all, then remove any that aren't applicable by clicking the x. If this product has a new variation – A limited edition sexy leopard print for example – you can use the "Add New".

Before saving, make sure that "Visible on the Product Page" and "Used for Variations" are both ticked.

Click "Save attributes".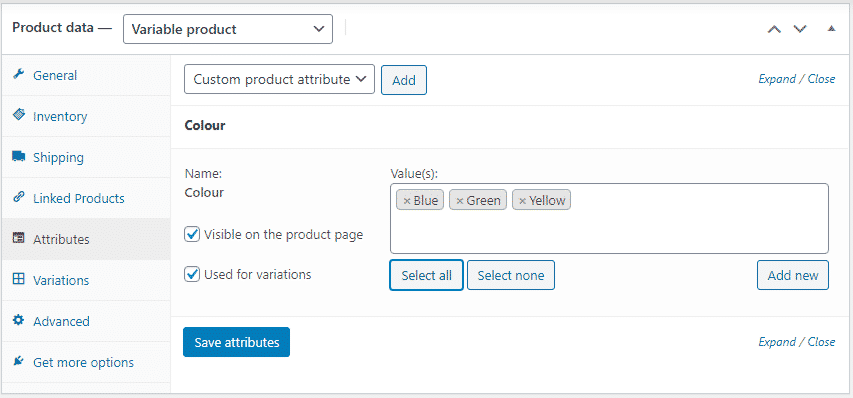 Repeat the previous step as necessary if your products have multiple variations – e.g. colour and size.
After you've added all the possible attributes, navigate to "Variations", select "Create variations from all attributes", then click "Go".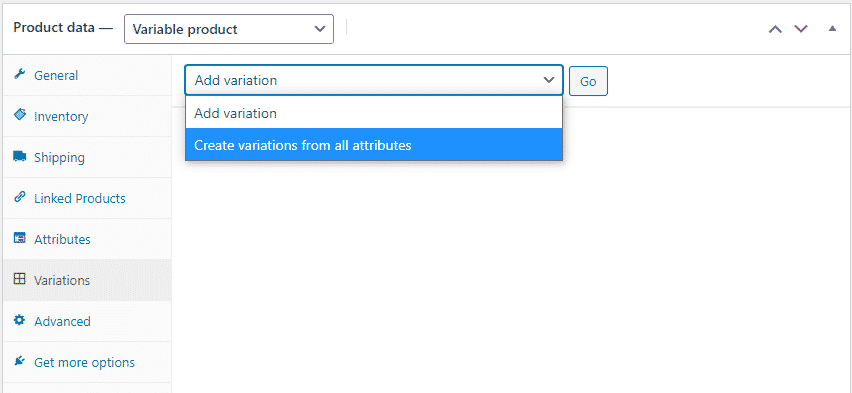 The following warning will pop up. Click "OK". Of course I'm sure!
You should now see something like the following: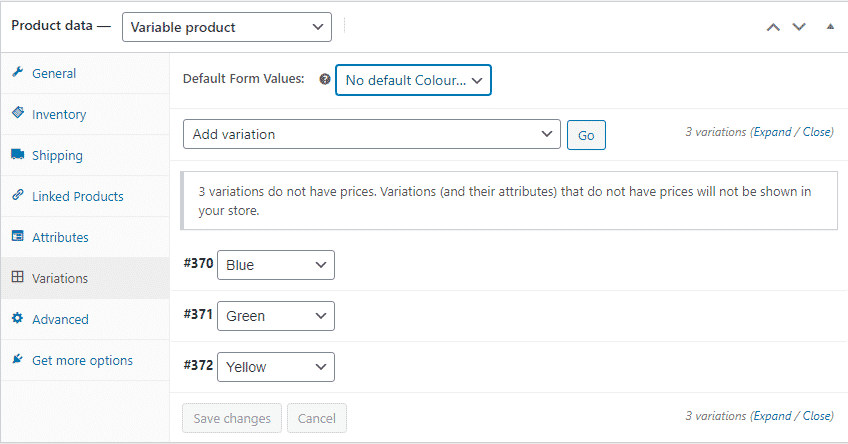 Click "Expand" to see the options to add the product data.
Click the blue image to add an image of this specific variation. I.e. if it was green, you'd add a photo of the green version.
The remaining fields can be treated as above in the instructions for the simple product, but need to be repeated for every variation.
The "Description" box is optional.
Once you've added all the details (or made any changes), don't forget to click "Save" at the very bottom of the variation section.

You haven't finished, as you need to complete steps 6-8 the same a for a Simple Product before you're done.
As always, any questions or doubts, don't hesitate to ask.